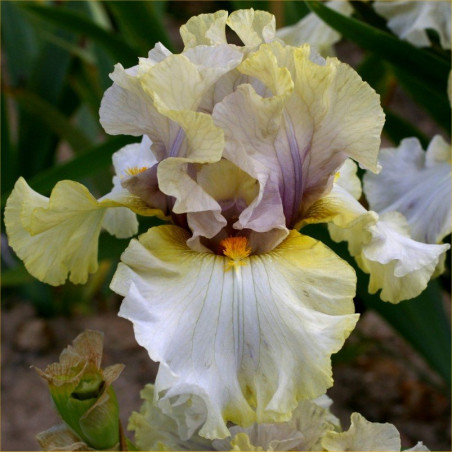  
Suspicion
Tall Bearded Iris 97cm.
Mid Season flowering, May and June in the UK.
Pronounced Sweet Fragrance.
Light lavender-grey standards, darker at their base. Greenish-yellow falls near the bright yellow beards, then creamy white. It looks like a reverse amoena in most unusual tints.
Hybridised by Keith Keppel in 1998 from Wishful Thinking X Spring Shower.
Receiving an Honourable Mention in 2001.

2022 Season now Open.
Orders shipped in September.
(Keith Keppel, R. 1998) Sdlg. 93-83H. TB, 38" (97 cm), MS. greyed greenish yellow (M&P 19-DE-1), central area blended aster violet (45-F-7); style arms greenish yellow (19-C-1), lavender lip; F. light greenish yellow (19-B-1), slightly darker margins (19-C-1) and shoulders (20-K-1), giving russet green to oil yellow (12-L-1) effect; beards yellow (10-L-6); pronounced sweet fragrance. Wishful Thinking X Spring Shower. Keppel 1999. HM 2001.
Data sheet
Height

Tall - 70-100cm

Colour

Cream
White

Fragrance

Pronounced Sweet

Season

Mid

Rebloomer

No
Customers who bought this product also bought: