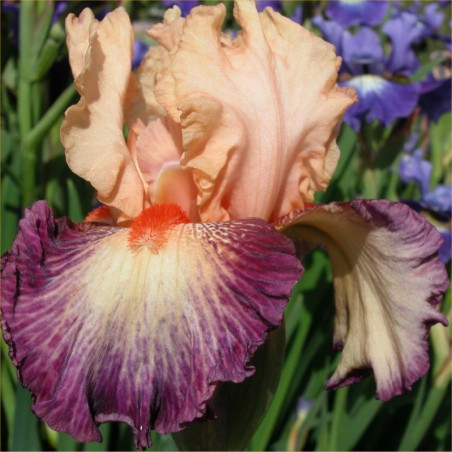  
Chevalier De Malte
Tall Bearded Iris 80cm.
Mid Season flowering, May and June in the UK.
Light pinkish cream standards, purple-pink falls with large cream centre. Beards orange red.
Hybridised by Richard Cayeux in 1997.

2021 Season now Closed.
New orders shipped in September 2022.
(Richard Cayeux, R. 1997) Sdlg. 88212 A. TB, 32" (80 cm), MS. light pinkish chamois; F. bright pinkish purple, large cream center; beards orange red. Whirl Around X 86167 A: (8461 B, Ruban Bleu sib, x 8459: ((Condottiere x Delphi) x (Condottiere x Metropolitan))). Cayeux 1998.
Data sheet
Height

Tall - 70-100cm

Colour

Cream
Pink

Fragrance

None

Season

Mid

Rebloomer

No
Customers who bought this product also bought: