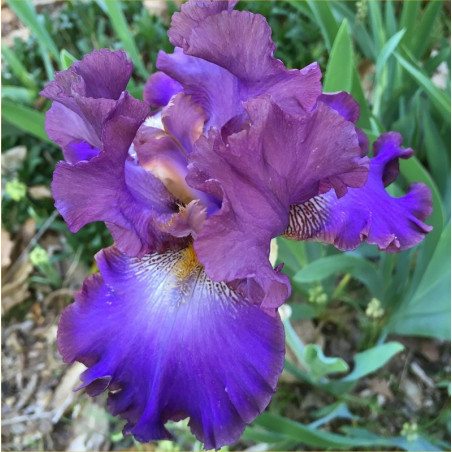  
Afternoon in Rio
Tall Bearded Iris 91cm. 
Mid to Late Season flowering, May and June in the UK.
Violet purple standards and slightly darker falls with a bronze rim and a white blaze below gold beards.
Hybridised by Schreiner's in 2005 from multiple crosses.
Receiving an Honorable Mention in 2007 and an Award of Merit in 2009.

2022 Season now Open.
Orders shipped in September.
(Schreiner, R. 2005) Sdlg. KK 392-1. TB, 36" (91 cm), MLS. violet purple (RHS 579A); F. dark violet-purple (586A), bronze rim, white blaze below beard; beards old gold. GG 524-1: (CC 76-1: (W 29-B: (L 100-B, sib to Yaquina Blue pollen parent, x Pledge Allegiance) x Silverado) x 1985 #25, unknown) X Serene Moment. Schreiner 2005. HM 2007, AM 2009.
Data sheet
Height

Tall - 70-100cm

Colour

Purple
White

Fragrance

None

Season

Mid-Late

Rebloomer

No
Customers who bought this product also bought: