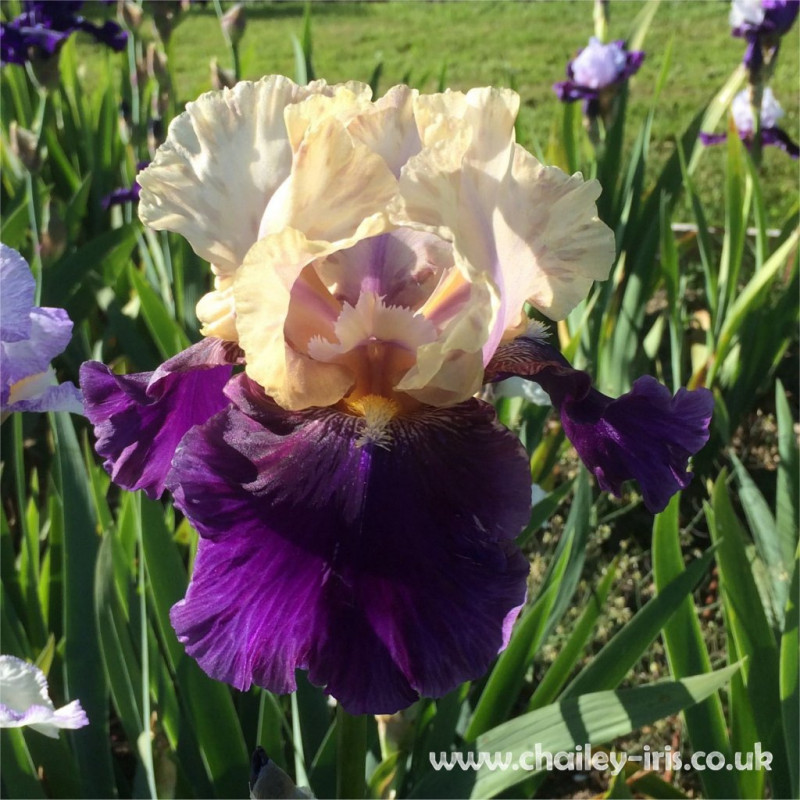  
Boysenberry Buttercup
Tall Bearded iris 94cm.
Early Mid season flowering, May and June in the UK.
Showy ruffled bicolor flowers in cream and lavender.
Creamy yellow standards with purple midrib shading, lavender falls with a lighter rim. Beard is yellow in throat, mustard midsection and white at the end.
Pronounced sweet fragrance.
Introduced by Larry Lauer in 1997 from Best Bet, Edith Wolford, Winterscape and others. Parent to Feodosiya, Lunny Bereg and others.
Honourable Mention 1999, Award of Merit 2000.

** 2023 Orders are now CLOSED **
NEW ORDERS WILL BE SHIPPED IN AUTUMN 2024
(Larry Lauer, R. 1997) Sdlg. 89-7-1. TB, 37" (94 cm), EM. S. light creamy yellow, purple midrib shading; style arms creamy yellow, base purple; F. lavender, rim lighter; beards white end, mustard midsection, yellow in throat; ruffled; pronounced sweet fragrance. Best Bet X 87-29: (Edith Wolford x Denney 81-5-1: ((Regents' Row sib x Winterscape) x Midnight Love Affair)). Stockton 1997. HM 1999, AM 2001.
Data sheet
Height

Tall - 70-100cm

Colour

Cream
Purple

Fragrance

Pronounced Sweet

Season

Early-Mid

Rebloomer

No
Customers who bought this product also bought: