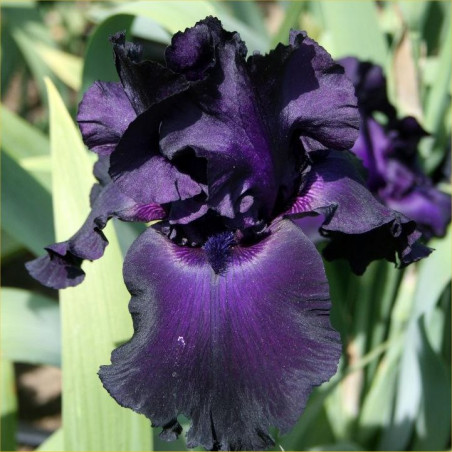  
Black Tie Affair
Tall Bearded Iris 91cm.
Mid Season flowering, May in the UK. Personally I notice a slight fragrance.
Inky, velvety black-purple Self, with black beards. Of course no iris is true 'black' but this iris will stand out in any border.
Hybridised by Schreiner 1993 from many crosses including Black Dragon, Titan's Glory, Broadway Star, Blue Mountains, Toll Gate and After Dark.
Receiving an Honourable Mention in 1995 and an Award of Merit in 1997.

2022 Season now Open.
Orders shipped in September.
(Schreiner, R. 1993) Sdlg. AA 273-B. TB, 36" (91 cm), M. Velvety inky black (RHS 202A); beards black. T 392-A: (Black Dragon x Titan's Glory) X T 315-A: (K 398-1: (B 302-G: (((Broadway Star x Whole Cloth) x Blue Mountains) x (Toll Gate x After Dark)) x H 296-A) x P 273-B: (Morning Hymn x Louisiana Lace)). Schreiner 1993. HM 1995, AM 1997 .
Data sheet
Height

Tall - 70-100cm

Colour

Black

Fragrance

Slight Sweet

Season

Mid

Rebloomer

No
Customers who bought this product also bought: