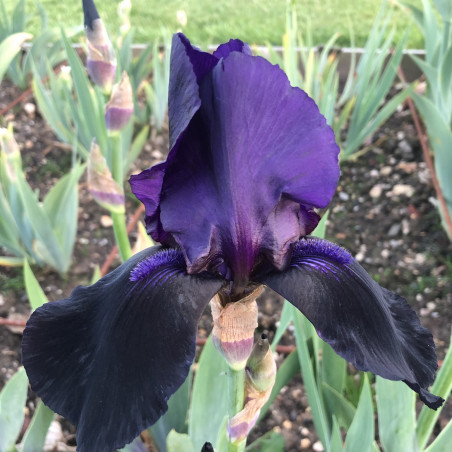  
Deep Black
Historic Tall Bearded Iris 91cm
Late season flowering, June in the UK.
Personally, I can detect a slight Spicy fragrance
Velvety self "black" violet falls and purple-blue standards and blue-black beard
Hybridised by Paul Cook in 1953 from Black Forest crosses.
First appearing in the American nursery, Longfield, catalogue in 1955 and awarded an Honourable Mention the same year and a Award of Merit in 1957.

2022 Season now Open.
Orders shipped in September.
(P. Cook, R. 1953) Sdlg. 9951. TB, 36" (91 cm), LSelf of "black" violet (blackish violet, Ridgway). Beard Roslyn blue (Ridgway). Black Forest x (sdlg. 7847: (Captain Wells x Indiana Night) X ((Modoc x Black Wings) x Indiana Night)). Longfield 1955. HM 1955; AM 1957.
Data sheet
Height

Tall - 70-100cm

Colour

Black

Fragrance

Slight Spicy

Season

Late

Rebloomer

No
Customers who bought this product also bought: