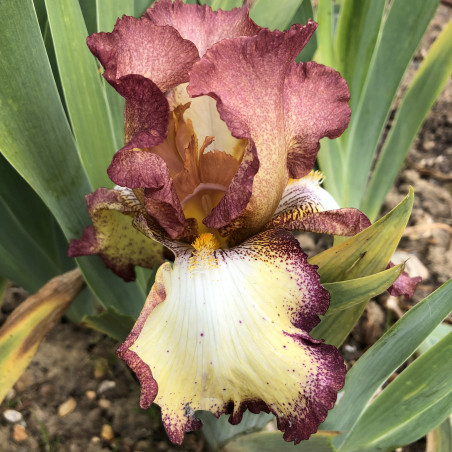  
Film Festival
Tall Bearded iris 89cm. 
Early Mid Season ruffled plicata flowers, May-June in the UK.
Pronounced musky fragrance.
Blended rose-raspberry standards with a creamy salmon-buff ground. The falls have a peachy cream ground bordered greyed mauve and darker greyed red-purple hafts. Beards are burnt orange to tomato red. 
Hybridised by the prolific and talented Keith Keppel in 1992. 
Receiving an Honourable Mention in 1995.

2022 Season now Open.
Orders shipped in September.
(Keith Keppel, R. 1992) Sdlg. 84-66A. TB, 35" (89 cm), EM. S rose buff (M&P 4-G-8) ground,blended and suffused dahlia mauve (53-D-9) to bacchus (53-J-4); F. peachy cream (9-B-4/5) ground bordered greyed mauve (46-H-3), darker greyed red purple (55-E-10) hafts; beards navajo (10-C-12) to tomato red (3-I-12); pronounced musky fragrance. Rustler X 81-122K: (Gigolo x Queen in Calico). D. & J. Gardens 1993. HM 1995.
Data sheet
Height

Tall - 70-100cm

Colour

Cream
Pink

Fragrance

Pronounced Musky

Season

Early-Mid

Rebloomer

No
Customers who bought this product also bought: