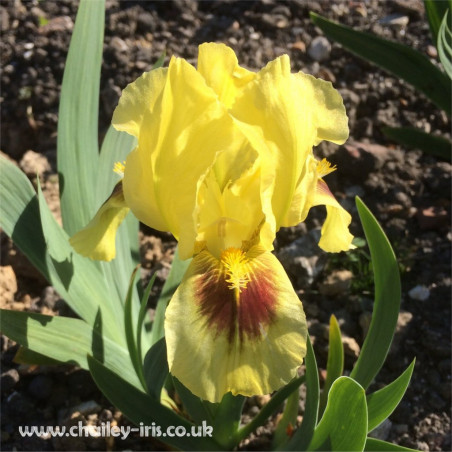  
Pogo
Historic Standard Bearded Dwarf Iris 30cm.
Plant 2-3 in a pot, perfect to add a ray of sunshine in early spring on the kitchen table.
Mid to late Season, May and June in the UK.
Variegata blooms. Bright yellow self with mahogany spot on the falls.
Introduced by Geddes Douglas (one of the namesakes for the Cook-Douglas Medal) in 1953 from (Golden Hind x Yellow Jewel) X pumila yellow.
First appearing in the Fairmount Iris Garden catalogue in 1954.
Receiving a High Commendation Royal Horticultural Society-British Iris Society in 1959 and a Honorable mention in 1957.

2022 Season now Open.
Orders shipped in September.
(G. Douglas, R. 1953) IB, 12" (30 cm), ML intermediateBright yellow self, mahogany spot on F. (Golden Hind x Yellow Jewel) X pumila yellow. Fairmount, Brentwood 1954. HM 1957; HC, RHS-BIS 1959. Historic Iris
Data sheet
Height

Dwarf - 26-40cm

Colour

Yellow

Fragrance

None

Season

Early

Rebloomer

No
Customers who bought this product also bought: