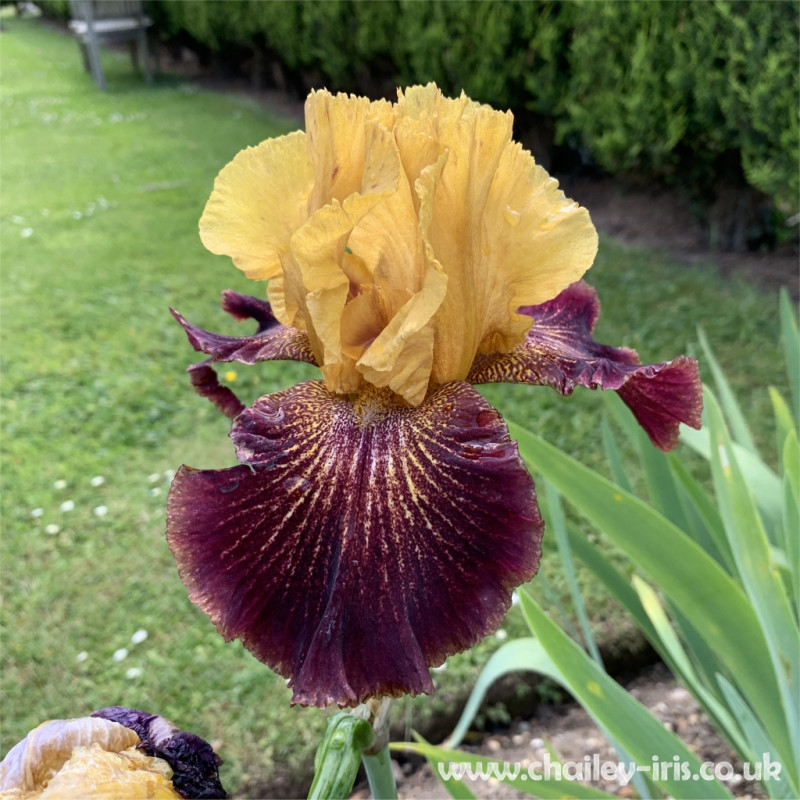  
Bronco Down
Tall Bearded iris 89cm.
Mid season flowering, May and June in the UK.
Spicy fragrance.
Showy bitone flowers in gold and maroon.
Orange-brown standards, yellow falls very heavily stitched and washed with dark red brown. Mustard beard.
Introduced by Tom Burseenin 1995 from Wild Berry, Medieval, Bronco Brown and others. 
(Tom Burseen, R. 1995) Sdlg. 0-152A. TB, 35" (89 cm), M. S. dark brown orange (RHS 167C); style arms tan, washed brown; F. yellow ground heavily stitched and washed dark red brown (187A); beards mustard; ruffled; spicy fragrance. 7-317: ((Wild Berry x Medieval) x Oh Babe) X 6-130: ((Pencil Sketch x Pinwheel) x (Bronco Brown x Theatre)). TB's Place 1995.
Data sheet
Height

Tall - 70-100cm

Colour

Purple
Yellow

Fragrance

Spicy

Season

Mid

Rebloomer

No