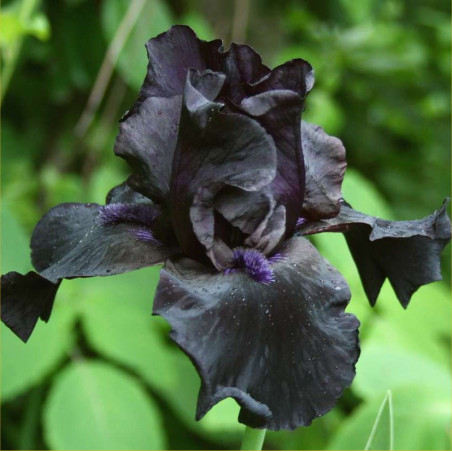  
Before The Storm
Tall Bearded iris 91cm.
Impressive BLACK ! Very black, one of the blackest we've seen.
Mid Season flowering, May and June in the UK.
Slight Spicy Fragrance.
Beautifully branched stalks with 7-9 buds. Wide, flaring form with moderate ruffling, and often opens 3 blooms at a time. 
Hybridised by Sterling Innerst in 1988 from Superstition X Raven's Roost.
Receiving an Honourable Mention in 1991, Award of Merit in 1993, President's Cup 1995, Wister Medal 1995 and Dykes Memorial Medal in 1996.

2022 Season now Open.
Orders shipped in September.
(S. Innerst, R. 1988) Sdlg. 2333-10. TB, 36" (91 cm), MBlack; black beard tipped bronze; slight fragrance. Superstition X Raven's Roost. Innerst 1989. HM 1991, AM 1993, Wister 1995, Dykes 1996.
Data sheet
Height

Tall - 70-100cm

Colour

Black

Fragrance

Slight Spicy

Season

Mid

Rebloomer

No
Customers who bought this product also bought: