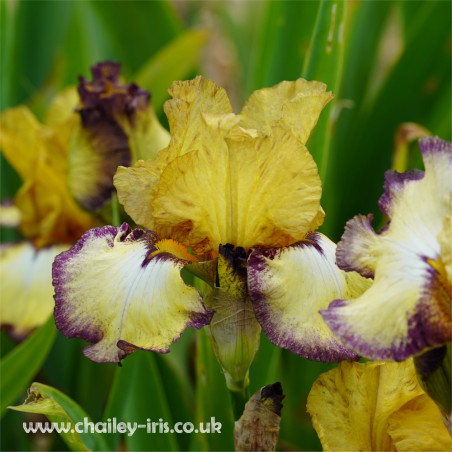  
Bullwinkle
We saw this truly unique iris in the US and brought it over for you to enjoy.
Border Bearded Iris 66cm.
Mid Season flowering, late May to early June in the UK.
Bright yellow standards with a burgundy midrib, and yellow style arms, washed burgundy. The falls have a lighter yellow ground with a burgundy Plicata haft patterning and burgundy midrib.  Golden orange beard.
Hybridised by George Sutton in 1994 from Gypsy Wings, Heat Flare, Tulare and Baby Bengal cross.

2021 Season now Closed.
New orders shipped in September 2022.
(George Sutton, R. 1994) Sdlg. HF-T-BBA. BB, 26" (66 cm), M. S. bright medium yellow, burgundy midrib; style arms yellow, washed burgundy; F. lighter yellow ground, burgundy plicata haft patterning, burgundy midrib, 1/8" light yellow outer rim, 1/3" burgundy (RHS 83A) inner rim; beards golden orange. GW-HF-T-A: ((Gypsy Wings x Heat Flare) x Tulare) X Baby Bengal. Sutton 1994.
Data sheet
Height

Border - 40-68cm

Colour

Yellow

Fragrance

None

Season

Mid

Rebloomer

No
Customers who bought this product also bought: