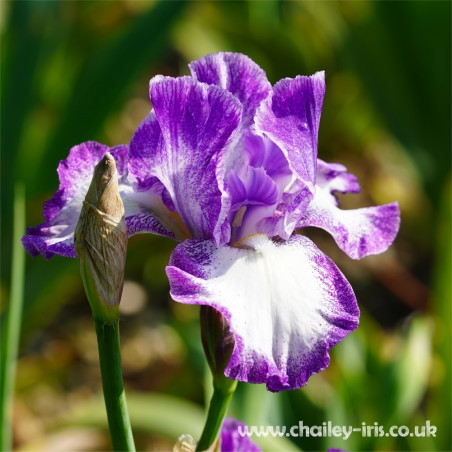  
Jesse's Song
Award-winning, Historic Tall Bearded Iris 91cm.
Mid Season flowering, May and June in the UK.
A white ground plicata that has wide, sanded borders of methyl violet, lemon beards tipped blue-white. A deeply ruffled form with double buds and show stalks that will open three well placed flowers.
Hybridised by Bryce Williamson in 1973 (or 1979) from (Charmed Circle x Kiss) X Iris Nelson (Smoke Rings x Decolletage).
The earliest listing I can find for this iris is the Pacific Coast Hybridises' catalogue of 1893.
Receiving an Honourable Mention in 1985, an Award of Merit in 1987, and the top award of the Dykes Memorial Medal in 1990.

2022 Season now Open.
Orders shipped in September.
(B. Williamson, R. 1979) Sdlg. 65773. TB, 36" (91 cm), MS. white center, sanded into a solid methyl violet band; F. white plicata edge of methyl violet, sanded into a clean white ground; lemon beard tipped blue-white. 474-1: (Charmed Circle x Kiss) X Iris Nelson 34-74A: (Smoke Rings x Decolletage). Pacific Coast Hybridizers 1983. HM 1985, AM 1987, Dykes 1990.
Data sheet
Height

Tall - 70-100cm

Colour

Purple
White

Fragrance

None

Season

Mid

Rebloomer

Yes
Customers who bought this product also bought: