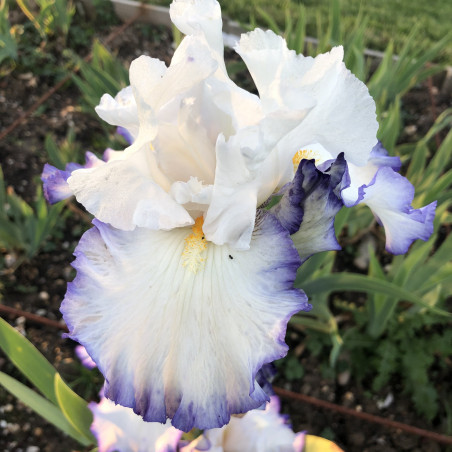  
Queen's Circle
Award Winning Tall Bearded Iris 81cm.
Mid to Late Season flowering, May and June, even into early July in some parts of the UK.
Impeccable Emma Cook white flower form. The flaring falls have a dark blue edge. Beards are orange red, white on the ends, passing through yellow. We have found the blue age fades to a lavender blue as the flower ages.
Hybridised by Frederick Kerr in 1999 from Victoria Circle X Christiana Baker.
Receiving an Honourable Mention in 2002, an Award of Merit in 2004, Wister Medal in 2006 and coveted Dykes Medal in 2007.

2022 Season now Open.
Orders shipped in September.
(Frederick Kerr, R. 1999) Sdlg. 930401. TB, 32" (81 cm), MLS. white; F. white, dark blue edge; beards orange red, pale yellow at end. Victoria Circle X Christiana Baker. Rainbow Acres 2000. HM 2002, AM 2004, Wister 2006, Dykes 2007.
Data sheet
Height

Tall - 70-100cm

Colour

Blue
White

Fragrance

None

Season

Mid-Late

Rebloomer

No
Customers who bought this product also bought: