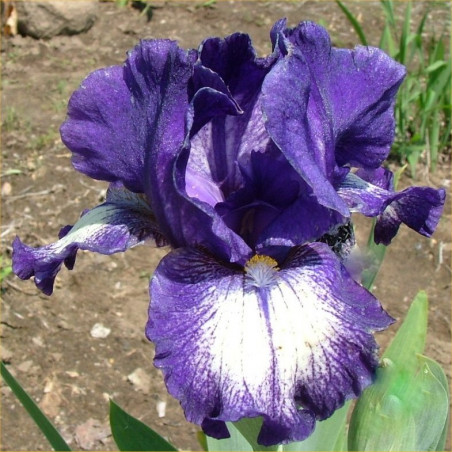  
Starwoman
Award-Winning Intermediate Bearded Iris 64cm.
Mid Season flowering, May and June in the UK.
Sweet Fragrance.
Stunning ruffled blooms. Blackish royal purple standards with faint lavender grey marks at the deeper purple midrib. Pearl falls have a dark black violet rim, centre stripe, dashing and stitching. Gold and violet beards,  yellow in the throat.
Hybridised by Marky Smith in 1997 from Chubby Cheeks X Keppel (Snowbrook x sib).
Receiving an Honourable Mention in 2001, Award of Merit in 2003, Sass Medal 2005 and the coveted Dykes Memorial Medal 2008.

2022 Season now Open.
Orders shipped in September.
(Marky Smith, R. 1997) Sdlg. 90-26E. IB, 25" (64 cm), MS. blackish royal purple (blacker than RHS 86A), faint lavender grey marks at deep purple midrib; style arms strong mauve violet, edges greyer; F. pearl (lighter than 156D) ground, ½" darkest black violet (darker than 86A) rim and center stripe, dark violet dashing and stitching within rim; beards blue violet at end, gold-tipped blue violet central area, yellow in throat; ruffled; slight sweet fragrance. Chubby Cheeks X Keppel 83-8A: (Snowbrook x sib). Aitken's Salmon Creek 1998. HM 2001, AM 2003, Sass Medal 2005, Dykes 2008.
Data sheet
Height

Intermediate - 40-70cm

Colour

Purple
White

Fragrance

Sweet

Season

Mid

Rebloomer

No
Customers who bought this product also bought: