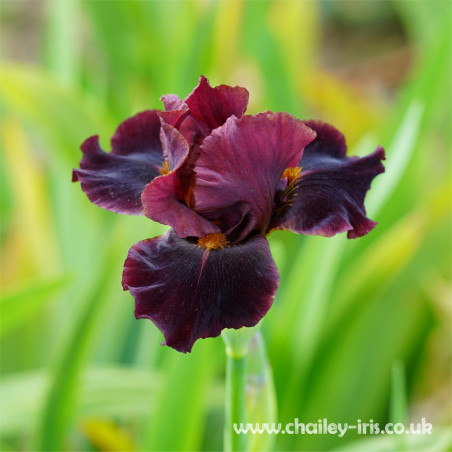  
Invicta Reprieve
Intermediate Bearded Iris 66cm.
Mid Season flowering, May and June in the UK.
Sweet Fragrance.
Ruffled blooms. Standards and falls in garnet red with golden wings. The beards are copper brown.
Hybridised by Olga Wells in 2011 from MCopatonic X BNNR-3: (Bee's Knees x Nut Ruffles).
Olga Wells has been the British Iris Society Year Book editor. For more Information about British Irises visit the British Iris Society Website.

2021 Season now Closed.
New orders shipped in September 2022.
(Olga Wells, R. 2011) Sdlg. Y15. IB, 26" (66 cm), M. S. and F. garnet red; style arms same, golden wings; beards copper brown; ruffled; sweet fragrance. Copatonic X BNNR-3: (Bee's Knees x Nut Ruffles).
Data sheet
Height

Intermediate - 40-70cm

Colour

Red

Fragrance

Sweet

Season

Mid

Rebloomer

No
Customers who bought this product also bought: