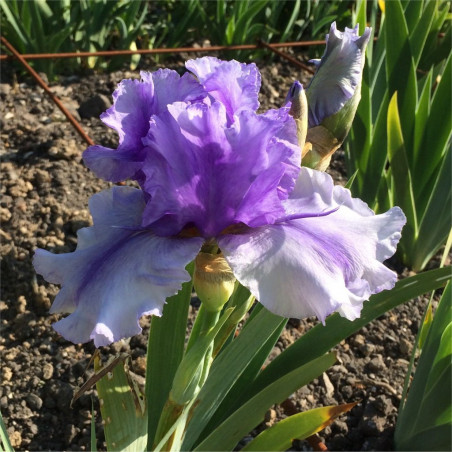  
Bye Bye Blues
Tall Bearded Space Age Iris 94cm. Very popular since its maiden bloom.
Introduced by and Exclusive to Chailey Iris Garden in the UK.
Mid Season flowering. May and June in the UK.
Sweet Fragrance.
Ruffled blooms with blended hyacinth blue standards, paler blue styles and wisteria blue falls and beards that are orange in throat ending in hyacinth coloured space-age spoons.
Hybridised by George Sutton in 1996 from Dauber's Delight X Honky Tonk Blues.
Receiving an Honourable Mention in 1997 and an Award of Merit in 2002.

2022 Season now Open.
Orders shipped in September.
(George Sutton, R. 1996) Sdlg. G-15-AR. TB, 37" (94 cm), MS. blended hyacinth blue (RHS 91A) to wistaria blue (91C); style arms pale blue; F. wistaria blue (91C/D); beards wistaria blue (91C), orange in throat, pale blue base, ending in hyacinth to wistaria spoon; ruffled; slight sweet fragrance. Dauber's Delight X Honky Tonk Blues. Sutton 1997. HM 1999, AM 2002.
Data sheet
Height

Tall - 70-100cm

Colour

Blue

Fragrance

Slight Sweet

Season

Mid

Rebloomer

No
Customers who bought this product also bought: