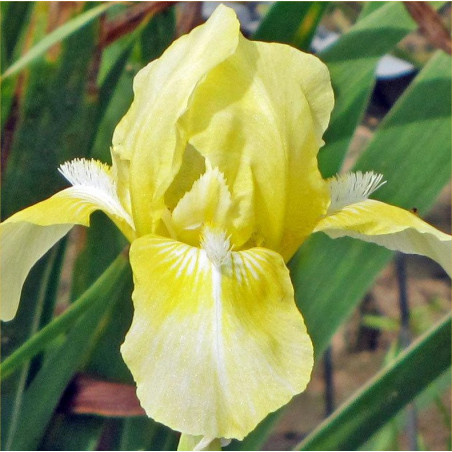  
Baby Blessed
Award winning, Historic Standard Dwarf Bearded Iris 25cm.
Early Season flowering, May in the UK. It often flowers again in summer for us before Reliably re blooming in autumn.
Light yellow blooms with a small white spot on the falls. Cream beards.
Hybridised by Lloyd Zurbrigg in 1979 from Baby Snowflake X Twice Blessed. 
Receiving an Honourable Mention in 1981, Award of Merit in 1986 and the top SDB award, the Cook-Douglas Medal in 1989.

2022 Season now Open.
Orders shipped in September.
(L. Zurbrigg, R. 1979) Sdlg. K 1 A. SDB, 10" (25 cm), E & RE (Sept & Oct in VA)Light yellow with small white spot on F.; cream beard. Baby Snowflake X Twice Blessed. Avonbank 1979. HM 1981, AM 1986, Cook-Douglas 1989.
Data sheet
Height

Standard Dwarf - 20-38cm

Colour

Yellow

Fragrance

None

Season

Early

Rebloomer

Yes
Customers who bought this product also bought: