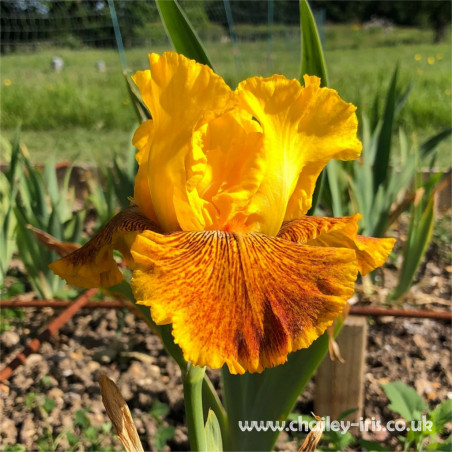  
Light Show
Tall Bearded Iris 86cm.
Mid Season flowering, May and June in the UK.
Clear yellow standards, falls sanded maroon red with shafts of yellow ground showing. Cadmium yellow beards.
Hybridised by Keith Keppel in 1990 from multiple crosses listed on the Description Tab. 

2022 Season now Open.
Orders shipped in September.
(Keith Keppel, R. 1990) Sdlg. 84-93A. TB, 34" (86 cm), M. S. sunflower yellow (M&P 9-L-4); F. citron yellow (10-J-2) ground, 1/16" clear margin, remainder dot washed garnet brown (6-L-9) to peony red (6-J-6) forming almost solid rayed pattern; beards cadmium yellow (9-L-9). 82-42F, Jitterbug sib, X 79-102C: (72-34A: (Caramba sib x (66-24A: ((Taholah x (Gene Wild x Majorette)) x Ballyhoo sib) x (High Life x 66-24H))) x Broadway). Keppel 1991.
Data sheet
Height

Tall - 70-100cm

Colour

Orange
Yellow

Fragrance

None

Season

Mid

Rebloomer

No
Customers who bought this product also bought: