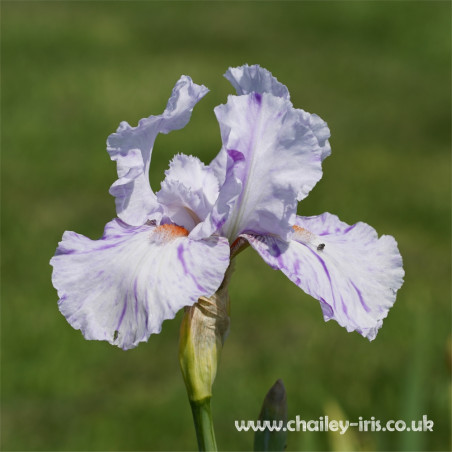  
Brindled Beauty (Registered lavender)
Tall Bearded Iris 86cm.
Mid to Late Season flowering, May and June in the UK.
Sweet Fragrance.
Stunning Broken blooms. White standards and falls with lavender coloured streaks and splashes. Beards are a nasturtium red.
Hybridised by Allan Ensminger in 1993 from Peach Jam X Maria Tormena. Varigay 1994.
Receiving an Honorable Mention in 1996 and an Award of Merit in 1999.
There are two colour variations of this iris in circulation - lavender which is the registered version, and a pink-tinted bloom which I have listed as the "Schneiner Pink". 

2022 Season now Open.
Orders shipped in September.
(Allan Ensminger, R. 1993) Sdlg. 88-54. TB, 34" (86 cm), ML. S. white with campanula splashes; F. white with campanula streaks and splashes; beards nasturtium red; slight fragrance. Peach Jam X Maria Tormena. Varigay 1994. HM 1996, AM 1999 .
Data sheet
Height

Tall - 70-100cm

Colour

Purple
White

Fragrance

Sweet

Season

Mid-Late

Rebloomer

No
Customers who bought this product also bought: