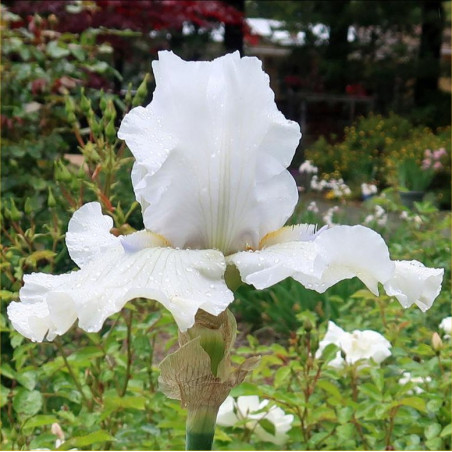  
Accessorized
Tall Bearded Space Age Iris 94cm.
Long continuous flowering period and strong stems male this a great cut flower.
Early through Mid into Late Season flowering, May and June in the UK, sometime even early July.
Near white blooms with just a hint of pale blue.
Subtle Space Age beards, very pale yellow melting into pale blue short fuzzy horns.
Hybridised by George Sutton in 2011 from Winds of Change X American Eagle.

2022 Season now Open.
Orders shipped in September.
(George Sutton, R. 2011) Sdlg. 5-14. TB, 37" (94 cm), E-M-LS. and style arms palest faience blue self (near white); F. same, slightly darker veins; beards yellow in throat, very pale yellow middle, pale blue at end, hairs blue white at base, pale yellow tips; ice blue fuzzy horns; ruffled. Winds of Change X American Eagle. Sutton 2012.
Data sheet
Height

Tall - 70-100cm

Colour

White

Fragrance

None

Season

Early-Mid-Late

Rebloomer

No
Customers who bought this product also bought: