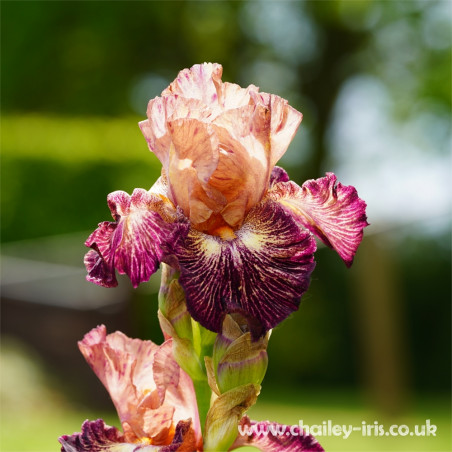  
Artistic Web
Tall Bearded Iris 97cm.
Mid Season flowering, May and June in the UK.
Sweet Fragrance.
Unique laminata, plicata blooms. Light pink standards with a rose coloured wash.The falls are a beetroot purple with striations becoming nearly solid at the edge. White beards are tipped bronze.
Hybridised by Richard Tasco in 2010.

2022 Season now Open.
Orders shipped in September.
(Richard Tasco, R. 2010) Sdlg. 03-TB-38-20. TB, 38" (97 cm), MS. light orient-pink lightly washed magenta rose, very slight irregular light maize-yellow edges; style arms maize yellow edges lightening to rosy mauve wash near midrib; F. salmon apricot ground heavily striated beetroot purple (RHS 71A) becoming nearly solid at edge; beards white base, tipped bronze; lightly ruffled, luminata plicata; sweet fragrance. 00-TB-28-30: (Ostentatious x 96-TB-11-27: (Splashacata x Oh Babe)) X 01-TB-65-08: (Flights of Fancy x Fancy Woman). Superstition 2010. HM 2012.
Data sheet
Height

Tall - 70-100cm

Colour

Pink
Purple
Red

Fragrance

Sweet

Season

Mid

Rebloomer

No
Customers who bought this product also bought: