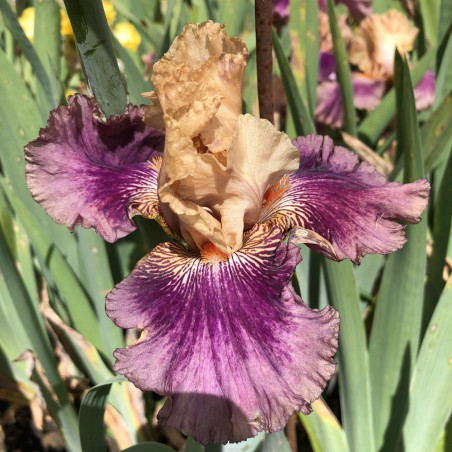  
Double Exposure
Tall Bearded Iris 94cm. Very long flowering period. 
Early though to Late Season flowering, May through June in the UK. Reliably reblooming in Autumn.
Sweet Fragrance.
Beautifully laced blooms. Smoky pink standards with light lavender midribs. The falls are rosy lilac with a maroon spray at the shoulders and the end of the beards. A white spray in the throat and around the orange beards.
Hybridised by Michael Sutton in 2005 from (Twice Told x Mother Earth) X Connie Sue. 

2022 Season now Open.
Orders shipped in September.
(Michael Sutton, R. 2005) Sdlg. NN-391-A. TB, 37" (94 cm), EML & RES. smoky venetian pink, light lavender midrib; style arms flesh; F. rosy lilac, maroon spray at shoulders and end of beards, white spray in throat and around beards; beards carrot; ruffled, laced; slight sweet fragrance. LL-171-AA: (Twice Told x Mother Earth) X Connie Sue. Sutton 2006.
Data sheet
Height

Tall - 70-100cm

Colour

Pink
Purple

Fragrance

Sweet

Season

Early-Mid-Late

Rebloomer

Yes
Customers who bought this product also bought: