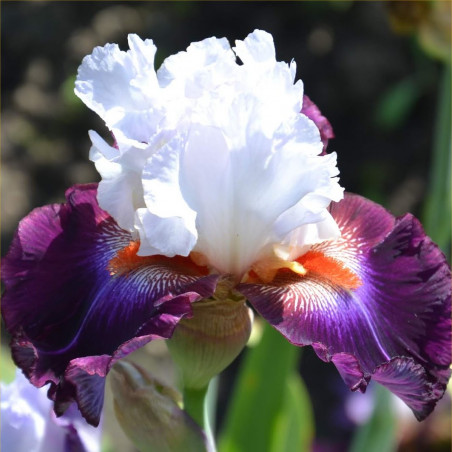  
Honourable Lord
Tall Bearded Iris 91cm.
"Deliciously rich neglecta that has a mysteriousness about it."
Mid to Late Season flowering, May and June in the UK. With up to 10 buds per stem.
Musky Fragrance.
Standards are light lavender blue, ruffled and closed. Falls are a rich violet with a small lighter zone around the beards and a smaller defined white spray pattern around the vivid tangerine beards. Wide overlapping falls and lots of substance. Very deep green foliage with purple base.
Hybridised by Barry Blyth in 2009 from Legerdemain X Gypsy Lord.

2022 Season now Open.
Orders shipped in September.
(Barry Blyth, R. 2009) Sdlg. Q41-12. TB, 36" (91 cm), MLS. light lavender-blue; F. rich violet to violet black, slightly lighter below beard, small white spray pattern beside vivid tangerine beard; slight musky fragrance. Legerdemain X Gypsy Lord. Tempo Two 2009/10.
Data sheet
Height

Tall - 70-100cm

Colour

Blue
Purple
White

Fragrance

Musky

Season

Mid-Late

Rebloomer

No
Customers who bought this product also bought: