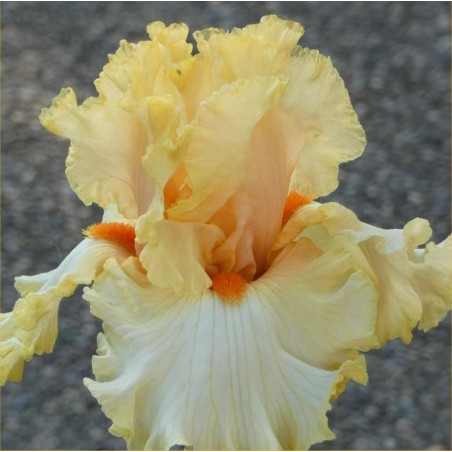  
Mimosa
Tall bearded Iris 91cm.
"Excellent form, study stems with up to 9 buds and large flowers." Excellent cut flower.
Mid to Very Late season flowering, through May and June, often even early July in the UK.
Re blooming in autumn, but not every year.
Pronounced Sweet Fragrance.
Orange standards veined pink, orange edges. White falls veined and blushed orange and a dark orange rim. Tangerine beards.
Hybridised by Michael Sutton in 2010 from Orange Juice X Bride's Blush. 
Receiving an Honourable Mention in 2014.

2022 Season now Open.
Orders shipped in September.
(Michael Sutton, R. 2010) Sdlg. V-223-A. TB, 36" (91 cm), ML-VL. S. orient pink veined orange, 1" orange edge; style arms orange; F. white veined and blushed orange, dark orange rim; beards deep tangerine; ruffled; pronounced sweet fragrance. Orange Juice X Bride's Blush. Sutton 2011. HM 2014.
Data sheet
Height

Tall - 70-100cm

Colour

Orange
Pink

Fragrance

Sweet

Season

Mid-Late

Rebloomer

Yes
Customers who bought this product also bought: