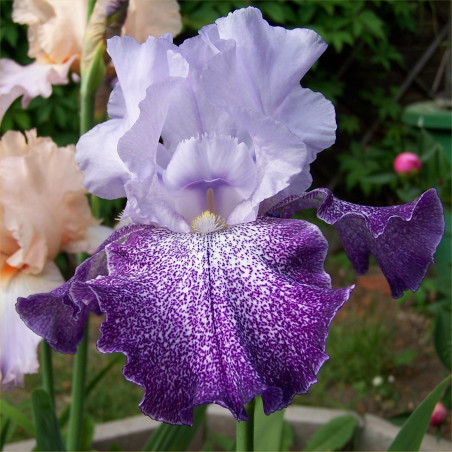  
Splashacata
Award Winning Tall Bearded Iris 89cm. 
Introduced to the UK by, and exclusive to, Chailey Iris Garden.
Named to rhyme with 'plicata', which is the flower pattern of this bloom.
Mid Season flowering, mid-May to mid-June in the UK.
Very pale violet standards; white falls peppered all-over with purple dots becoming more concentrated at the edge of the falls. The white beards have a pale violet cast at the end, the remainder with hairs tipped golden yellow.
Hybridised by Richard Tasco in 1997 from Purple Pepper X (Snowbrook x Jesse's Song).
Receiving an Honourable Mention in 2000, Award of Merit in 2002, the Wister Medal in 2004 and the pinnacle Dykes Medal in 2005.

2022 Season now Open.
Orders shipped in September.
(Richard Tasco, R. 1997) Sdlg. 93-41-15. TB, 35" (89 cm), M. S. pallid violet; style arms same, midrib deeper; F. white ground, allover peppering of purple dots more concentrated at edge; beards white, pale violet cast at end, remainder with hairs tipped golden yellow; lightly ruffled. Purple Pepper X 91-04: (Snowbrook x Jesse's Song). Superstition 1998. HM 2000, AM 2002, Wister 2004, Dykes 2005.
Data sheet
Height

Tall - 70-100cm

Colour

Purple
White

Fragrance

None

Season

Mid

Rebloomer

No
Customers who bought this product also bought: