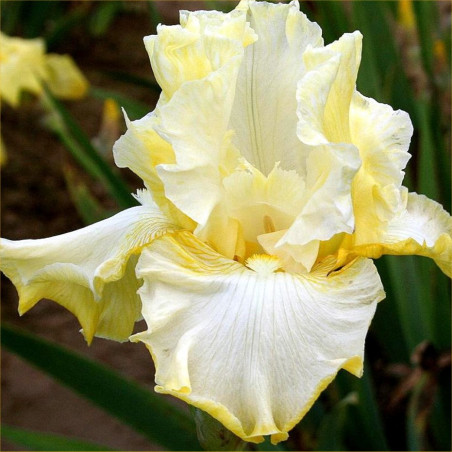  
Summer Waltz
Tall Bearded Iris 86cm.
A beautiful pastel ruffled iris with an extended flowering season, exclusive to Chailey Iris Garden in the UK.
Early, Mid to Late Season flowering, May and June in the UK. Reliable Reblooming in the autumn.
Slight Sweet Fragrance.
Lemon standards, white falls with lemon on the shoulders and edges. White beards with yellow-tipped hairs.
Hybridised by George Sutton in 2001 from Banana Cream (Waltz Across Texas x Orange Popsicle).

2022 Season now Open.
Orders shipped in September.
(George Sutton, R. 2001) Sdlg. J-7. TB, 34" (86 cm), EML & RE. S. lemon, reverse white; style arms lemon; F. white, lemon shoulders and edge; beards white, hairs tipped yellow; ruffled; slight sweet fragrance. Banana Cream X G-54: (Waltz Across Texas x Orange Popsicle). Sutton 2002.
Data sheet
Height

Tall - 70-100cm

Colour

Yellow

Fragrance

Slight Sweet

Season

Early-Mid-Late

Rebloomer

Yes
Customers who bought this product also bought: