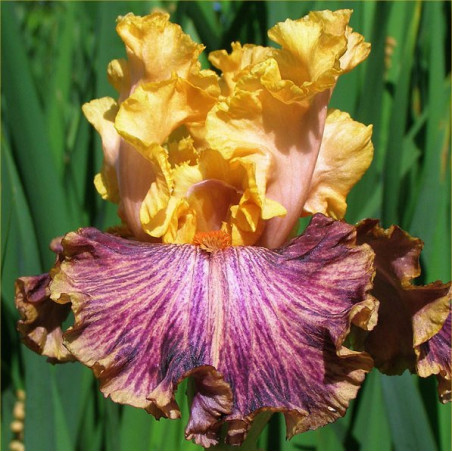  
Fruit Stripe
Border Bearded Iris 58cm. Introduced by and Exclusive to Chailey Iris Garden in the UK.
A shorter iris, perfect for the front of the border, near a path to appreciate the scent.
Early to Mid Season flowering, May and June in the UK. Reliable reblooming in autumn.
Sweet Fragrance.
Beautiful Bi-coloured bloom. Standards are yellow-orange, falls are more of a greyed orange with a heavy red-purple wash and an orange rim. orange beards.
Hybridised by Michael Sutton in 2008 from (Twice Told x Connie Sue) X Foreign Legion. 
Receiving an Honourable Mention 2013.

2022 Season now Open.
Orders shipped in September.
(Michael Sutton, R. 2008) Sdlg. S-2203-A. BB, 23" (58 cm), EM & RE. S. yellow orange flushed pink purple at midrib; style arms yellow orange; F. greyed orange, heavy red-purple wash, greyed orange rim; beards greyed orange tipped orange; slight sweet fragrance. M-776-A: (Twice Told x Connie Sue) X Foreign Legion. Sutton 2009.
Data sheet
Height

Border - 40-68cm

Colour

Orange
Pink
Yellow

Fragrance

Sweet

Season

Mid-Late

Rebloomer

Yes
Customers who bought this product also bought: