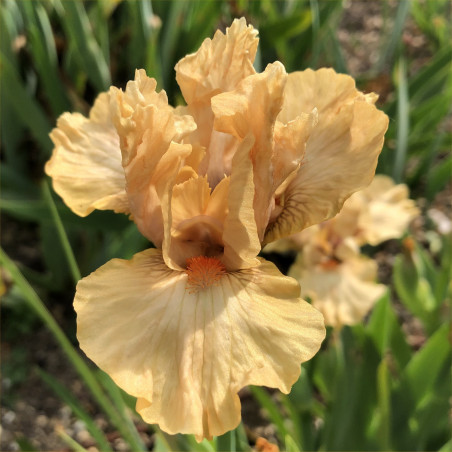  
Carved Pumpkin
Intermediate Bearded Iris 66cm. Exclusive to Chailey Iris here in the UK.
A slice of spicy pumpkin pie ! 
Early to Mid Season flowering, May and June in the UK.
Slight Spicy Fragrance.
Orange ruffled blooms with a slight pink flush up the midribs of the standards. Tangerine beards. Veining becoming apparent as the flower ages.
Hybridised by George Sutton in 2011 from Abbondanza X Cute or What.

2022 Season now Open.
Orders shipped in September.
(George Sutton, R. 2011) Sdlg. Q-799. IB, 26" (66 cm), E-M. S. cadmium orange (RHS 23B), slight pink flush up midribs; style arms cadmium orange; F. cadmium orange; beards tangerine; ruffled; slight spicy fragrance. Abbondanza X Cute or What. Sutton 2012.
Data sheet
Height

Intermediate - 40-70cm

Colour

Orange

Fragrance

Slight Spicy

Season

Early-Mid

Rebloomer

No
Customers who bought this product also bought: