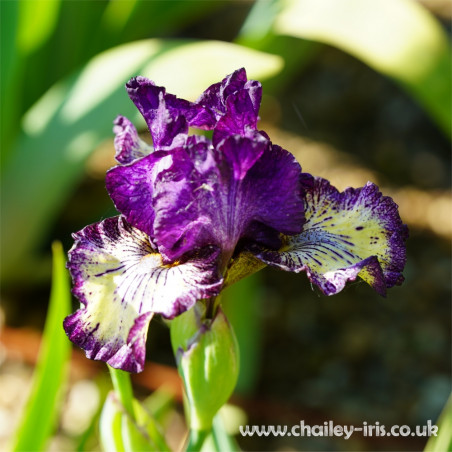  
Fall Line
Intermediate Bearded Iris 51cm. Introduced to the UK, and Exclusive to Chailey Iris Garden.
Mid to Late Season flowering, May and June in the UK. Re blooming in autumn.
Spicy Fragrance.
White and yellow standards washed plum purple above white falls veined and edged in plum purple. Yellow shoulders and white beards, bronzed in the throat.
Hybridised by Michael Sutton in 2008 from Ruby Eruption X Momentous Occasion.
Receiving an Honourable Mention in 2011.

2022 Season now Open.
Orders shipped in September.
(Michael Sutton, R. 2008) Sdlg. Q-505-C. IB, 20" (51 cm), ML & RE. S. white and yellow ground washed plum purple; style arms plum; F. white ground veined and edged plum purple, yellow shoulders; beards white, bronze in throat; slight spicy fragrance. Ruby Eruption X Momentous Occasion. Sutton 2009. HM 2011.
Data sheet
Height

Intermediate - 40-70cm

Colour

Purple
White

Fragrance

Slight Spicy

Season

Mid-Late

Rebloomer

Yes
Customers who bought this product also bought: