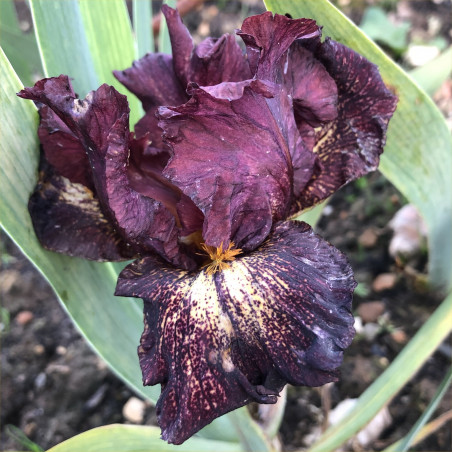  
Hot Sauce
Rare Intermediate Bearded Iris 66cm. Introduced and Exclusive to Chailey Iris Garden.
Early to Mid Season flowering, May and June in the UK.
Sweet Fragrance.
Ruffled blood red blooms, with yellow ground at the centre of the falls and dotting. Bronze Beard.
Hybridised by George Sutton in 2006 from Hot Chocolate X Firestorm.

2022 Season now Open.
Orders shipped in September.
(George Sutton, R. 2006) Sdlg. Q348. IB, 26" (66 cm), EM. S. blend of oxblood (RHS 183A/B/C); style arms chrysanthemum (185B); F. aureolin (12C) ground dotted (185C), 1˝ oxblood rim; beards bronze, ruffled, slight sweet fragrance. Hot Chocolate X Firestorm. Sutton 2007.
Data sheet
Height

Intermediate - 40-70cm

Colour

Red
Yellow

Fragrance

Slight Sweet

Season

Early-Mid

Rebloomer

No
Customers who bought this product also bought: