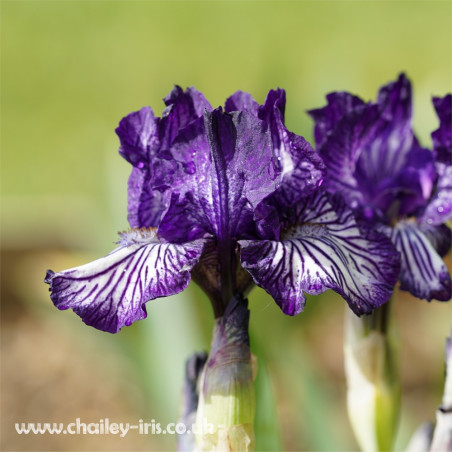  
Line Drive
Intermediate Bearded Iris 51cm. Introduced to the UK and Exclusive to Chailey Iris Garden.
Early to Mid Season flowering, May and June in the UK. Reblooming in autumn.
Spicy Fragrance.
White standards washed violet-blue, white falls lined violet-blue. The burnt orange beards are white-tipped.
Hybridised by Michael Sutton in 2006 from Ruby Eruption X Momentous Occasion.
Receiving an Honourable Mention in 2010.

2022 Season now Open.
Orders shipped in September.
(Michael Sutton, R. 2006) Sdlg. Q-505-A. IB, 20" (51 cm), EM & RE. S. white ground washed violet blue (RHS 96A); style arms violet blue; F. white ground lined violet blue; beards white tipped burnt orange; slight spicy fragrance. Ruby Eruption X Momentous Occasion. Sutton 2007. HM 2010.
Data sheet
Height

Intermediate - 40-70cm

Colour

Purple
White

Fragrance

Slight Spicy

Season

Early-Mid

Rebloomer

Yes
Customers who bought this product also bought: