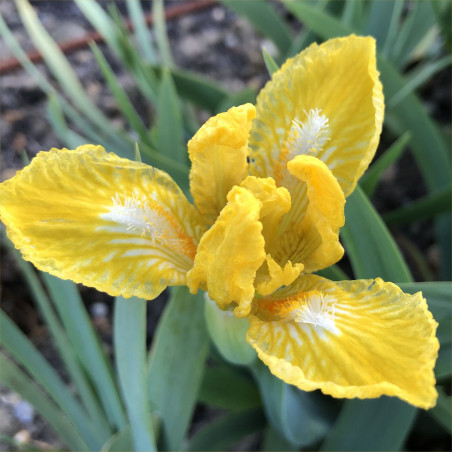  
Cache of Gold
Standard Bearded Dwarf Iris 28cm. Introduced to the UK by, and Exclusive to Chailey Iris Garden.
Early to Mid Season flowering, May in the UK. Reliable reblooming. 
Slight Sweet Fragrance.
Plant 2-3 in a shallow wide pot to take indoors when in flower and fill the house with scent.
Gold self blooms, gold beards white at the ends.
Hybridised by George Sutton in 2003 from Little Blue-Eyes X (Sigh x Chanted). Sutton 2004.
Receiving an Honourable Mention in 2006 and an Award of Merit in 2008.

2022 Season now Open.
Orders shipped in September.
George Sutton, R. 2003) Sdlg. L-198. SDB, 11" (28 cm), EM & RE. Gold self (near RHS 17); beards gold, whitish at end; slight sweet fragrance. Little Blue-Eyes X G-85: (Sigh x Chanted). Sutton 2004. HM 2006, AM 2008.
Data sheet
Height

Standard Dwarf - 20-38cm

Colour

Yellow

Fragrance

Sweet

Season

Early-Mid

Rebloomer

Yes
Customers who bought this product also bought: