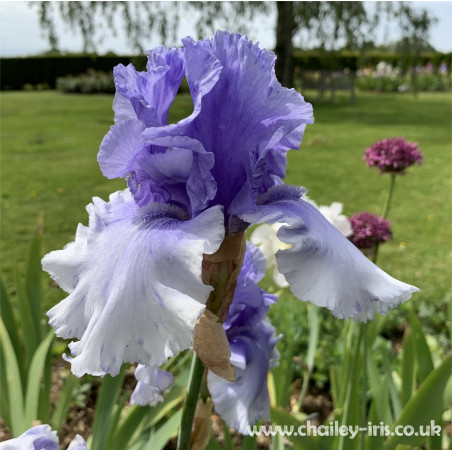  
Cascade Springs
Tall Bearded Iris 99cm. 
The pale sapphire colour with bubbling ruffles suggest the cool effervescence of icy spring waters. (Schreiner's Iris Lover's Catalogue 1995)
Mid Season flowering, May and June in the UK.
Ruffled blue lavender standards. Blue white falls with soft blue lavender in the centre. Light blue, frost tipped beards.
Hybridised by Schreiner's in 1994 from Sea of Joy X Memphis Blues.
Receiving an Honourable Mention in 1996.

2022 Season now Open.
Orders shipped in September.
(Schreiner, R. 1994) Sdlg. AA 110-A. TB, 39" (99 cm), M. S. blue lavender (RHS 96D) wash; F. blue white with blue lavender (97C) washed center; beards light blue, frost tipped; ruffled. Sea of Joy X Memphis Blues. Schreiner 1994. HM 1996.
Data sheet
Height

Tall - 70-100cm

Colour

Blue
Purple
White

Fragrance

None

Season

Mid

Rebloomer

No
Customers who bought this product also bought: