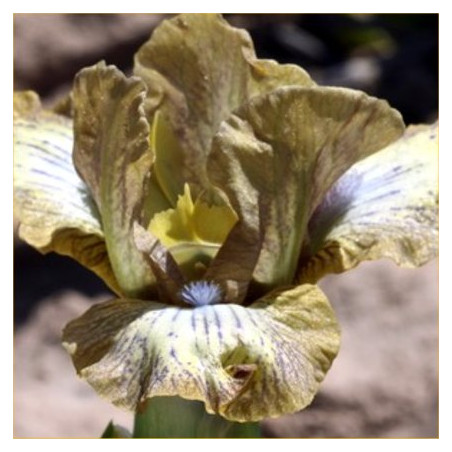  
Celtic Belle
Standard Dwarf Bearded Iris 29cm. Amazing extended, scented flowering season.
Introduced by and Exclusive to Chailey Iris Garden in the UK.
Very Early through to Mid Season flowering, April, May and June in the UK. Also reliable reblooming in autumn.
Slight Sweet Fragrance. 
Ruffled Plicata blooms. Yellow-green standards dotted light blue, style arms are yellow. Chartreuse green falls, dotted and veined light blue and with a yellow-green rim. Beards are light blue.
Hybridised by George Sutton in 2008 from (Baby Belle x Just for Fun) X Madeline.

2022 Season now Open.
Orders shipped in September.
(George Sutton, R. 2008) Sdlg. R-316-F. SDB, 11.5" (29 cm), VE-M & RE. S. citron green (RHS 151D) dotted light wisteria blue (92D); style arms yellow; F. chartreuse green (154B), dotted and veined light wisteria blue, citron green rim; beards light wisteria blue; ruffled; slight sweet fragrance. Q-715: (Baby Belle x Just for Fun) X Madeline. Sutton 2009.
Data sheet
Height

Standard Dwarf - 20-38cm

Colour

Blue
Yellow

Fragrance

Slight Sweet

Season

Early-Mid

Rebloomer

Yes
Customers who bought this product also bought: