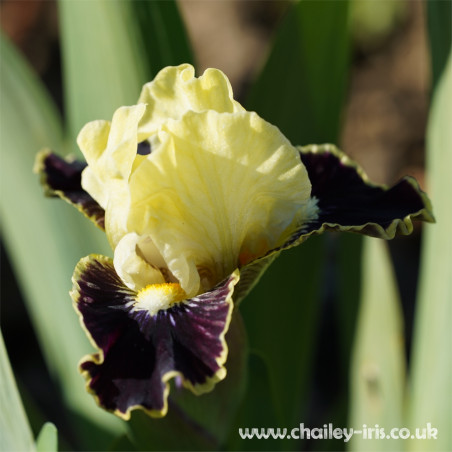  
Coconino
Standard Dwarf Bearded Iris 33cm. 
Introduced by and Exclusive to Chailey Iris Garden in the UK.
Early Season flowering, May in the UK.
Ruffled Bicolour blooms. Oyster cream standards, blackened mulberry falls with cream wire rims and cream feathers around the beards. The beards are yellow-orange in the throat, yellow-tipped with cream in the middle and at the end.
Hybridised by Marky Smith in 2009 from P. Black  (Ajax the Less x (Captive Sun x Minidragon sib)).

2022 Season now Open.
Orders shipped in September.
(Marky Smith, R. 2009) Sdlg. 04-11S. SDB, 13" (33 cm), ES. oyster cream (RHS 160D); style arms pale grey, crests oyster cream; F. blackened mulberry (slightly blacker than 79A), cream (160B) wire rim, cream feathers around beard; beards yellow orange in throat, yellow tipped cream in middle, cream at end; ruffled. P. Black B279A, Puddy Tat sib, X 02-09A: (Ajax the Less x (Captive Sun x Minidragon sib)). Salmon Creek 2012.
Data sheet
Height

Standard Dwarf - 20-38cm

Colour

Cream
Purple

Fragrance

None

Season

Early

Rebloomer

No
Customers who bought this product also bought: