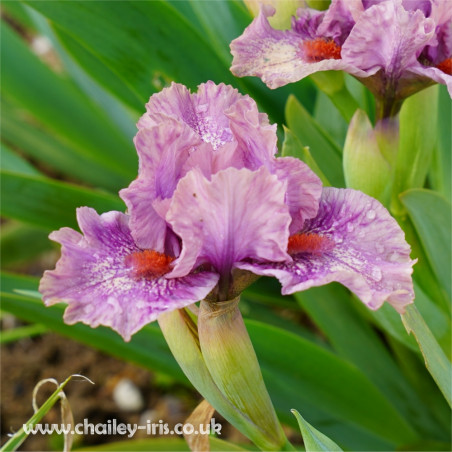  
Raspberry Ice
Standard Dwarf Bearded Iris 38cm.
Mid Season flowering, May and June in the UK.
Rose standards with orchid pink shading toward the base. Falls have an apricot cream ground with rose blending and an orchid band. The shoulders are peppered and veined darker pink. Beards are candy pink.
Hybridised by Keith Keppel in 2011.
Receiving an Honourable Mention in 2014 and an Award of Merit in 2016.

2022 Season now Open.
Orders shipped in September.
(Keith Keppel, R. 2011) Sdlg. 05-20F. SDB, 15" (38 cm), MS. buff rose (M&P 3-CD-8) shading to orchid (43-FG-7) toward base; style arms buff rose; F. apricot cream (9-B-4) ground, ⁵⁄₈˝ blended buff rose and orchid band, shoulders peppered and veined darker greyed orchid (45-I-3); beards candy pink (2-H-10) and pale orchid (42-G-2) giving rusty coral effect. 01-18C: (99-24A, Arvo sib, x 99-24H) X 98-25N: (Music x Stormy Circle). Keppel 2012. HM 2014, AM 2016.
Data sheet
Height

Standard Dwarf - 20-38cm

Colour

Pink

Fragrance

None

Season

Mid

Rebloomer

No
Customers who bought this product also bought: