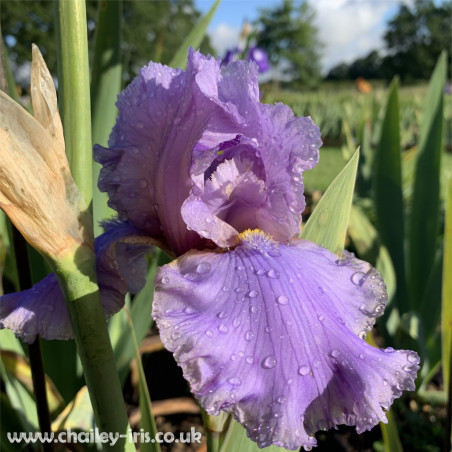  
Catch a Wave
Tall Bearded Iris 91cm.
Mid to Late Season flowering, Late May to early July in the UK.
Musky Fragrance.
Hazy violet blue standards and falls, style arms a deeper violet blue. Mulberry rose haft flush. Gold orange beards tipped lavender.
Hybridised by Roger Nelson in 1995 from Pieces of Eight X Graduation.

2022 Season now Open.
Orders shipped in September.
(Roger Nelson, R. 1995) Sdlg. RN 86-3BCF. TB, 36" (91 cm), ML. S. hazy violet blue (near RHS 92A); style arms deeper violet blue; F. hazy violet blue, with gilt edge, mulberry rose haft flush; beards gold orange, tipped lavender; slight musky fragrance. Pieces of Eight X Graduation. Iris Country 1995.
Data sheet
Height

Tall - 70-100cm

Colour

Blue
Purple

Fragrance

Sweet Musky

Season

Mid-Late

Rebloomer

No
Customers who bought this product also bought: