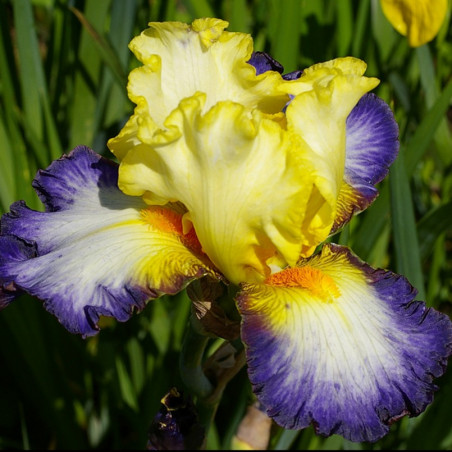  
Bientôt L'Été
Tall Bearded Space Age Iris 81cm.
Aptly named, a very late flowering iris; it soon will be summer !
Very Late Season flowering, June and into July in the UK.
Pure clear yellow standards, white falls, yellow under the beards and a deep blue violet border. The beards and horns are orange.
Hybridised by Richard Cayeux in 2014 from Bel Avenir X Noctambule sib.

2022 Season now Open.
Orders shipped in September.
(Richard Cayeux, R. 2014) Sdlg. 06160C. TB, 32" (81 cm), VLS. pure clear yellow; style arms yellow; F. white, yellow under beards, deep blue-violet 12 mm border, horizontal; beards orange, occasional small horn. Bel Avenir X Noctambule sib. Cayeux 2015.
Data sheet
Height

Tall - 70-100cm

Colour

Purple
Yellow

Fragrance

None

Season

Late

Rebloomer

No
Customers who bought this product also bought: