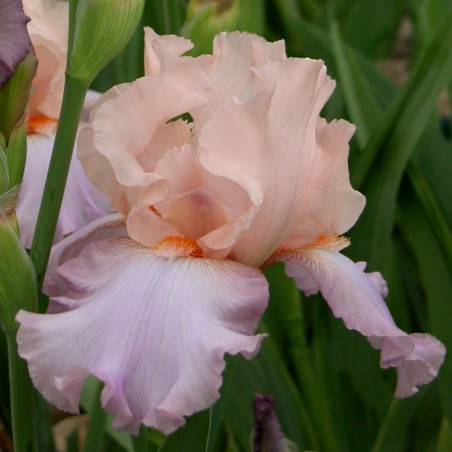  
Celebration Song
Award winning Tall Bearded Iris 94cm.
Long flowering, with 8 or more buds. Easy to see why it won first prize in the Florence Iris Competition.
Early to Mid to Late Season flowering, May, June and even early July in the UK.
Apricot pink standards, pale blue lavender falls with beards in tangerine.
Hybridised by Schreiner in 1993 from Lullaby of Spring X Frances Gaulter.
Receiving an Honourable Mention in 1995, an Award of Merit in 1997, Wister Medal in 2000 and the coveted Dykes Medal in 2003.

2022 Season now Open.
Orders shipped in September.
(Schreiner, R. 1993) Sdlg. AA 1540-1. TB, 37" (94 cm), EML. S. apricot pink (RHS 36C); F. blue lavender (91D); beards tangerine. Lullaby of Spring X Frances Gaulter. Schreiner 1993. HM 1995, AM 1997, Wister 2000, Dykes 2003.
Data sheet
Height

Tall - 70-100cm

Colour

Blue
Pink

Fragrance

None

Season

Early-Mid-Late

Rebloomer

No
Customers who bought this product also bought: