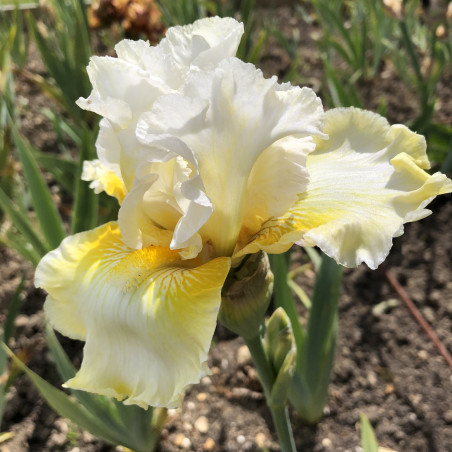  
Country Dawn
Very Tall Bearded Iris 104cm.
Mid Season flowering, May and June in the UK.
Pronounced sweet fragrance.
White standards with a central area of gold veining and yellow on the midrib and crest tips. The falls are white in the centre with yellow hafts and yellow veining from the beard to the edge. The beards are also yellow, with a white base.
Hybridised by Tom Johnson in 2002 from Sunshine Song X Goldkist.
Receiving an Honourable Mention in 2005.

2022 Season now Open.
Orders shipped in September.
(Tom Johnson, R. 2002) Sdlg. Q38C. TB, 41" (104 cm), MS. white, central area with fine gold veining; style arms white, yellow midrib and crest tips; F. white with yellow haft, fine yellow veining from beard to edge, narrow yellow rim inside clear crystalline rim; beards yellow, white base; pronounced sweet fragrance. Sunshine Song X Goldkist. Mid-America 2003. HM 2005.
Data sheet
Height

Tall - 70-100cm

Colour

White
Yellow

Fragrance

Sweet

Season

Mid

Rebloomer

No
Customers who bought this product also bought: