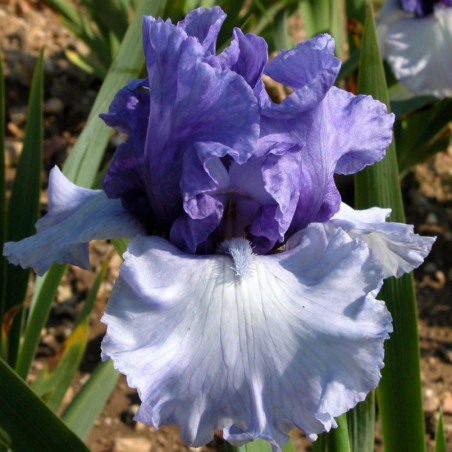  
Crowned Heads
Award Winning Tall Bearded Iris 97cm.
Mid Season flowering, May and June in the UK.
Sweet Fragrance.
Reverse Amoena blooms. Violet standards slightly deeper at the base. Light blue falls shaded deeper in the heart, ageing silvery blue white. Blue beards.
Hybridised by Keith Keppel in 1996 from In Reverse X Honky Tonk Blues. 
Receiving an Honourable Mention in 1999, Award of Merit in 2001, Wister  Medal in 2003 and the Coveted Dykes medal in 2004.

2022 Season now Open.
Orders shipped in September.
(Keith Keppel, R. 1996) Sdlg. 90-67A. TB, 38" (97 cm), M. S. wistaria violet (M&P 41-E-8/9), slightly deeper (41-HI-10) base; style arms light blue (41-A-5/6); F. light blue (33-A-5) shaded deeper (41-B-8) in heart, aging silvery blue white; beards blue (33-A-7), goldenrod (10-L-5) in throat; slight sweet fragrance. In Reverse X Honky Tonk Blues. Keppel 1997. HM 1999, AM 2001, Wister 2003, Dykes 2004.
Data sheet
Height

Tall - 70-100cm

Colour

Blue

Fragrance

Sweet

Season

Mid

Rebloomer

No
Customers who bought this product also bought: