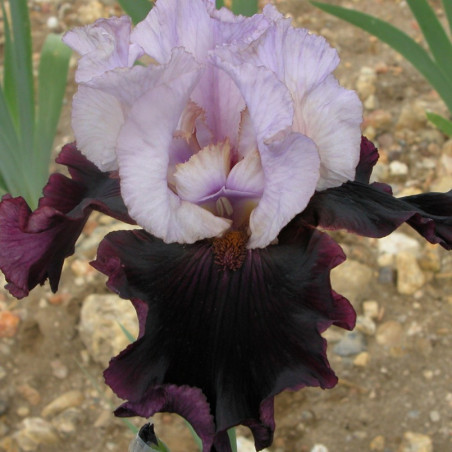  
Evening Drama
Tall Bearded Iris 91cm. Beautiful coloured ruffled flowers on strong stems with multiple buds. Another favourite in the cutting garden.
Mid Season flowering, May and June in the UK.
Sweet fragrance.
Blue white standards with a light purple basal flush. Velvety, dark purple falls with a slightly lighter edge. Beards brown with a dark purple base.
Hybridised by Paul Black in 2003 from Zepherina X Romantic Evening. Receiving an Honourable Mention in 2006.

2022 Season now Open.
Orders shipped in September.
(Paul Black, R. 2003) Sdlg. J106B. TB, 36" (91 cm), M. S. icy blue white, light purple basal flush; style arms icy blue white; F. velvety dark purple black, slightly lighter toward edge; beards brown, dark purple base; ruffled, lightly laced; slight sweet fragrance. Zepherina X Romantic Evening. Mid-America 2004. HM 2006.
Data sheet
Height

Tall - 70-100cm

Colour

Blue
Purple
White

Fragrance

Sweet

Season

Mid

Rebloomer

No
Customers who bought this product also bought: