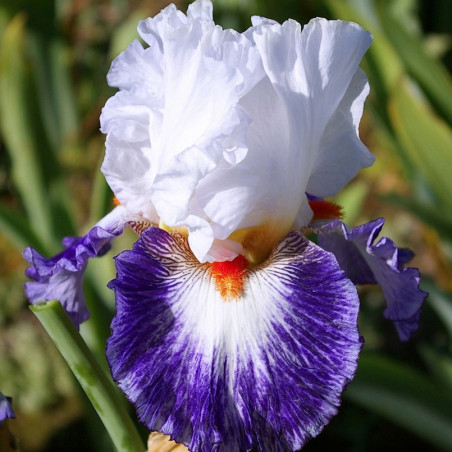  
Gypsy Lord
Tall Bearded Iris 102cm.
A true over achiever, top of the medal table!
Mid to Late Season flowering, May and June in the UK.
Off white standards above violet blue falls marbled white and white centre highlighting the red beards.
Hybridised by Keith Keppel in 2005 from Last Laugh X (Braggadocio x Romantic Evening).
Receiving an Honourable Mention in 2008, an Award of Merit in 2010, Wister Medal in 2012, Dykes Memorial Medal in 2015
and the Franklin Cook Memorial Cup in 2008.

2021 Season now Closed.
New orders shipped in September 2022.
(Keith Keppel, R. 2005) Sdlg. 99-43T. TB, 40" (102 cm), ML. S. blue white (M&P 41-A-3); style arms blue white (41-A-4), lavender tip; F. blue violet (41-IJ-12) marbled wash and wire rim on paler (41-AB-7) blue, white center and hafts veined violet; beards paprika (2-J-12). Last Laugh X 95-52C: (Braggadocio x Romantic Evening). Keppel 2006. HM 2008, AM 2010, Wister 2012.
Data sheet
Height

Tall - 70-100cm

Colour

Blue
White

Fragrance

None

Season

Mid-Late

Rebloomer

No
Customers who bought this product also bought: