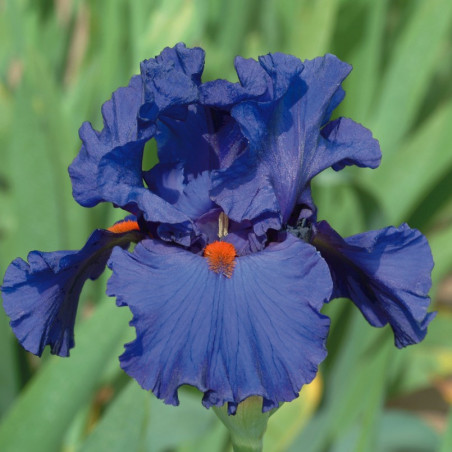  
Paul Black
Award-winning, Very Tall Bearded Iris 107cm.
Mid to Late Season flowering, late May and June in the UK, often into July here at the nursery.
Pronounced Spicy Fragrance.
Ruffled medium-dark purple-blue Self blooms with an eye-catching dark orange beard. 
Hybridised by Tom Johnson in 2002 from Tom Johnson X Star Fleet.
Receiving an Honourable Mention in 2005, Award of Merit in 2007, Wister Medal in 2009 and the coveted Dykes Medal in 2010.

2022 Season now Open.
Orders shipped in September.
(Tom Johnson, R. 2002) Sdlg. R103A. TB, 42" (107 cm), ML. Medium dark purple blue; beards dark orange; pronounced spicy fragrance. Tom Johnson X Star Fleet. Mid-America 2003. HM 2005, AM 2007, Wister 2009, Dykes 2010.
Data sheet
Height

Tall - 70-100cm

Colour

Blue

Fragrance

Pronounced Spicy

Season

Mid-Late

Rebloomer

No
Customers who bought this product also bought: