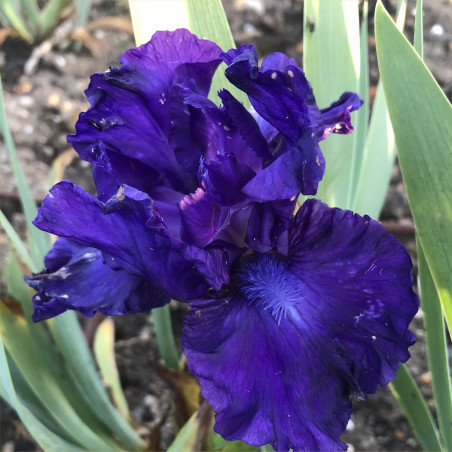  
Bientôt la Nuit
New Introduction (2020) from France. An unusually strong colour for an Intermediate.
Intermediate Bearded Iris 60cm. 
Mid to Late Season flowering, May and June in the UK.
Pronounced Musky Fragrance.
A perfect name to describe this iris, dark purple standards and falls, slightly paler toward the blue beards.
Hybridised by Richard Cayeux in 2019 from St. Petersburg X Fairy Ring.

2022 Season now Open.
Orders shipped in September.
(Richard Cayeux, R. 2019) Sdlg. 1104A. IB, 23.5" (60 cm), M-LS. violet; style arms blue-violet; F. violet, slightly paler toward beard; beards lavender-blue; pronounced musky fragrance. St. Petersburg X Fairy Ring.
Data sheet
Height

Intermediate - 40-70cm

Colour

Purple

Fragrance

Pronounced Musky

Season

Mid-Late

Rebloomer

No
Customers who bought this product also bought: