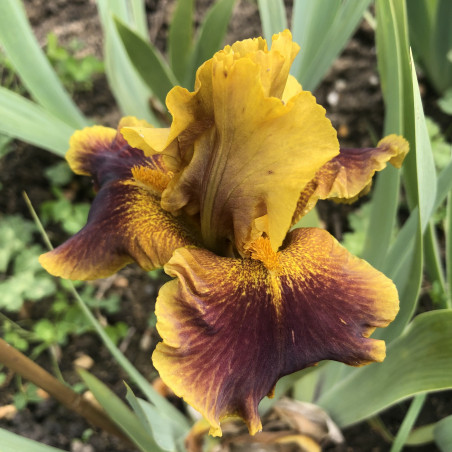  
Brat
Intermediate Bearded Iris 66cm.
Mid Season flowering, May and June in the UK.
Pronounced Sweet Fragrance.
The standards and falls are a coppery yellow, the falls washed maroon except on edges and a dotted pattern at the haft and bronze beard.
Hybridised by Keith Keppel in 2000 from (Gigolo x Sketch Me) x Hot Streak) X Brash.
Receiving an Honourable Mention in 2004.

2022 Season now Open.
Orders shipped in September.
(Keith Keppel, R. 2000) Sdlg. 93-1D. IB, 26" (66 cm), MS. light chrome yellow (M&P 10-L-4) to goldenrod (10-L-5); style arms brighter chrome yellow (10-L-3/4); F. goldenrod edge and near beard, remainder lime yellow (11-L-5), perilla purple (47-J-3 to 47-L-4) central wash, fine leather brown (14-A-10) haft dotting and netting; beards yellow ochre to bronze; pronounced sweet fragrance. 88-27A: (83-22G: (Gigolo x Sketch Me) x Hot Streak) X Brash. Keppel 2001. HM 2004.
Data sheet
Height

Intermediate - 40-70cm

Colour

Brown
Yellow

Fragrance

Pronounced Sweet

Season

Mid

Rebloomer

No
Customers who bought this product also bought: