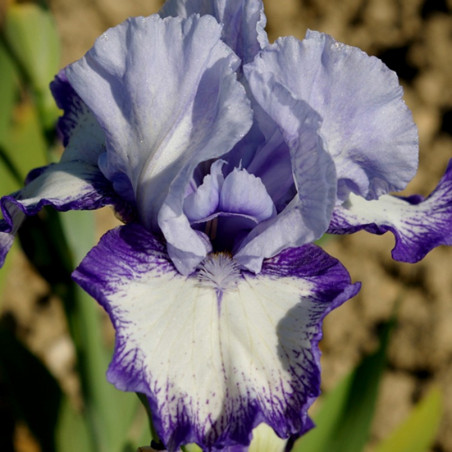  
Citizen's Band
Intermediate Bearded Iris 64cm.
Beautiful blue for the front of the border with a cracking scent. 
Early Season flowering, May in the UK.
Pronounced Sweet Fragrance.
Blue standards, white falls banded royal purple.
Hybridised by Keith Keppel in 2000.

2022 Season now Open.
Orders shipped in September.
(Keith Keppel, R. 2000) Sdlg. 94-47C. IB, 25" (64 cm), ES. chicory blue (M&P 42-C-7), some white showing in center; style arms chicory blue, darker (42-GH-9) shading on midrib and crests; F. warm white (17-AB-1), royal purple (43-K-11) 3/8" marginal band with slightly paler (42-K-11) outer edge, narrow centerline; beards blue (41-A-6), yellow (9-L-4/5) with light brown hair tips in throat; pronounced sweet fragrance. 83-8A: (Snowbrook x sib 80-131H) X Chubby Cheeks. Keppel 2001.
Data sheet
Height

Intermediate - 40-70cm

Colour

Blue
White

Fragrance

Pronounced Sweet

Season

Early

Rebloomer

No
Customers who bought this product also bought: