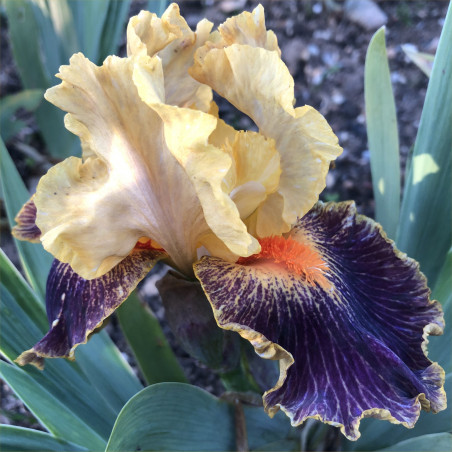  
Delirium
Award Winning Intermediate Bearded iris 69cm.
Another fragrant iris for the front of the garden border, or as a cut flower to fill the house with scent.
Early to Mid Season flowering, May and June in the UK. 7-9 buds per stem to give a long flowering period.
Pronounced Sweet Fragrance. 
Gold standards above dark red-violet falls. Tangerine beards shouldered with gold.
Hybridised by Marky Smith in 1999 from Flights of Fancy X Brash. 
Receiving both an Honourable Mention and the Barbara Walther Cup in 2003, Award of Merit in 2005 and the top award for Intermediate's; the Sass Medal in 2007.

2022 Season now Open.
Orders shipped in September.
(Marky Smith, R. 1999) Sdlg. 95-27W. IB, 27" (69 cm), EMS. smoked gold (greyer than RHS 162A); style arms cream rib, gold crests; F. greyed gold rim and veins, dark red violet (greyer than 187A) overlay, hafts gold to smoked salmon around beard; beards greyed orange (170) at end, vermilion (34A) in throat; ruffled, edges crinkled; pronounced sweet fragrance. Flights of Fancy X Brash. Aitken 2001. HM 2003, AM 2005, Sass 2007.
Data sheet
Height

Intermediate - 40-70cm

Colour

Purple
Yellow

Fragrance

Pronounced Sweet

Season

Early-Mid

Rebloomer

No
Customers who bought this product also bought: