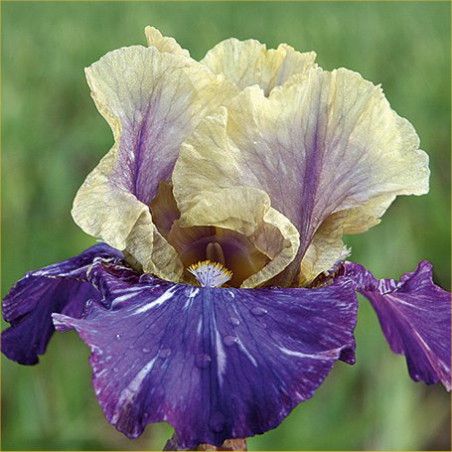  
Doe Z Doe
Intermediate Bearded Iris 66cm. 
Mid Season flowering, May and June in the UK.
Unusual Broken flower pattern.
Lightly ruffled blooms, cream standards with a violet rib and white streaking, violet falls with silver white streaking.Burnt orange beards.  
Hybridised by Brad Kasperek in 2005 from Blueberry Filly X Sneezy. 
Receiving an Honourable Mention in 2008.

2022 Season now Open.
Orders shipped in September.
(Brad Kasperek, R. 2005) Sdlg. 98AB-139R. IB, 26" (66 cm), MS. tan (RHS 162), violet (87A) rib, white (155C) streaking; style arms light tan (162A); F. lavender violet (87A), silver white (155C) streaking; beards burnt orange; lightly ruffled. Blueberry Filly X Sneezy. Zebra 2005. HM 2008.
Data sheet
Height

Intermediate - 40-70cm

Colour

Cream
Purple

Fragrance

None

Season

Mid

Rebloomer

No
Customers who bought this product also bought: