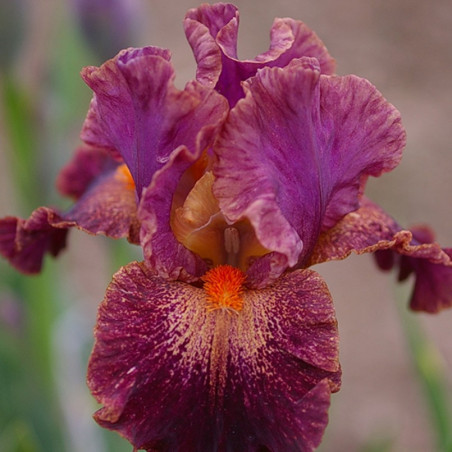  
Domaine
Intermediate Bearded Iris 66cm. 
Early to Mid Season flowering, May and June in the UK.
Stunning Luminata blooms.
Rose coloured standards with style arms dusted cinnamon. The burgundy falls have apricot speckled hafts. Strong orange red beards.
Hybridised by Keith Keppel in 2002 from Fancy Woman X Brash. 
Receiving an Honourable Mention in 2005.

2022 Season now Open.
Orders shipped in September.
(Keith Keppel, R. 2002) Sdlg. 98-70D. IB, 26" (66 cm), EMS. blended greyed rose amethyst (M&P 45-H-7) paling to rosy ecru (13-A-6) edge; style arms blended samovar (12-K-7) to cinnamon (12-E-7), edged cornsilk (10-G-3), midrib flushed lavender; F. darker red raspberry to light burgundy (55/56-C-11), speckled hafts with pale apricot (9-F-6) ground; beards orange red (2-D-12), tile red (3-D-12) at end. Fancy Woman X Brash. Keppel 2003. HM 2005.
Data sheet
Height

Intermediate - 40-70cm

Colour

Pink
Purple

Fragrance

None

Season

Early-Mid

Rebloomer

No
Customers who bought this product also bought: